For the past two seasons we have been field testing this exciting new technology to see for ourselves how well it really works. The results are in. It really does work great, and we are excited to make this service available to you as a no hassle, no commitment, subscription-based service.
Automowers have been around in Europe since 1995 and are just gaining popularity here in the United States. Battery powered autonomous lawn mowers offer a safe, quiet, eco-friendly way to maintain your lawn at a competitive price.
We are offering a Basic Package and a Gold Package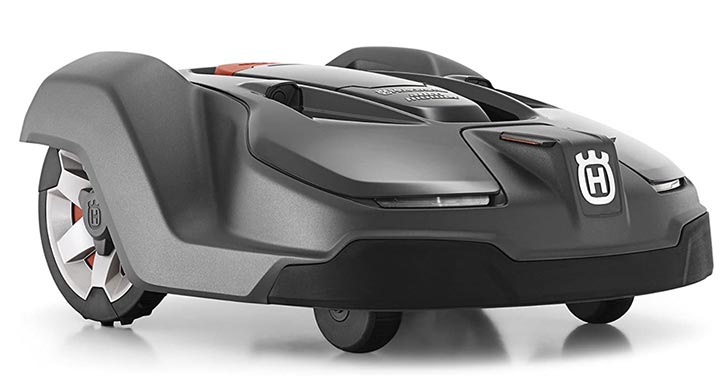 The Basic Package includes:
24/7 use of your own autonomous mower which stays in your yard.
Installation of the Automower's boundary wire and charging station.
Regularly scheduled blade changes.
Winter storage of your Automower and charging station.
The Gold Package includes all the benefits of the Basic Package plus weekly or bi-weekly trimming and blowing services with eco-friendly, electric equipment.
Additional yard maintenance services, like bed weeding, mulching, and shrub pruning are also available to Gold Package subscribers.
Call us today to setup an Automower consultation for your property.
FAQ
Is Automower® safe for kids and pets?
The Automower's blades are setback well under the body of the mower keeping them safely out of the way of hands and feet. Automower's have a built-in safety feature which will automatically stop the blades if the mower is lifted or turned over. When the Automower encounters an obstacle, it stops and turns around.
What if the Automower is stolen?
The Automower is equipped with GPS tracking to prevent theft and locate the mower if it is ever stolen. We are immediately notified if the mower leaves your property. The Automower is linked to it's particular charging station and has a PIN code making it useless to a would-be thief. Your subscription service also includes insurance protection against theft.
Is the Automower noisy?
No, the Automower is so quiet that it can be scheduled to mow at night. The only thing you will here is the sound of the blades cutting the tips of your grass.
Will the Automower cut in rainy or wet conditions?
Yes, the Automower is designed to work in wet and even rainy weather. Because the Automower keeps your grass cut to it's optimal height it won't ever struggle with long wet grass or leave clumps of grass clippings behind. With it's light footprint, the Automower will not make damaging ruts in wet grass like a traditional commercial mower.
Is the Automower good for the environment?
Yes, it is! The Automower runs entirely on battery power making it a zero-emissions lawn mower. The charging station will keep your Automower up and running for just a few dollars of electricity a month without any input from you.
Is the Automower good for my lawn?
Yes, the Automower keeps your grass consistently mowed at optimum height by cutting just the tips of the grass every day and returning those micro clippings back into the soil as natural fertilizer. The Automower cuts your lawn in a random pattern leaving a carpet-like appearance.
What size lawn can the Automower maintain?
One Automower can maintain up to an acre of lawn area on it's own. Additional Automowers can work together to maintain larger properties.